Wine Scene | Summer 2012
Blantyre's Masseto Tasting • 27th Annual Smoker • Sommelier Challenge • In praise of Roederer USA
QRW Staff
---
Blantyre's Dinner and Masseto Tasting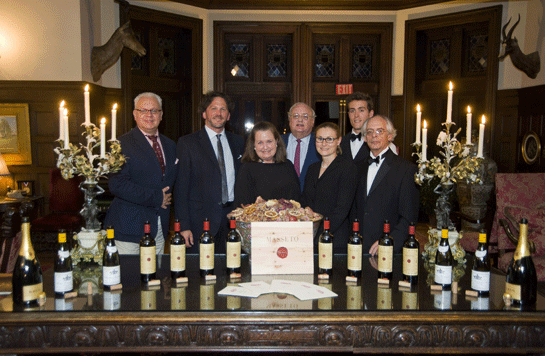 From left: Alessandro Lunardi of Tenuta dell' Ornellaia, winemaker Axle Heinz of Masseto, Ann Fitzpatrick Brown of Blantyre, with Peter Holt, Christelle Cotar, Aurie Delano, and Luc Chevalier
One of the rites of a New England summer is the annual "Tasting Supper" at Blantyre, the posh Relais & Châteaux property and Tudor retreat in the Berkshires. You go to Blantyre to lose yourself, to get away from life's general din and electronics. In doing so, you discover yourself, resuscitated by quiet Berkshire walks with acres of lawn and woodland that surround Blantyre. After that there's dinner, which is never mundane, and which renews your belief that fine cooking still exists. Few properties in this country can match the excellence and elegance of a Blantyre wining and dining experience. Proprietor Ann Fitzpatrick Brown sees to it, allowing for an evening's expression of banqueting in the grand French manorial style that's without pretence. You'll be reminded of what dining — not merely eating — is all about. Anyone who has read culinary giants like M.F.K. Fisher or Julia Child or Craig Claiborne knows that Blantyre is exactly the kind of place they would like and advocate.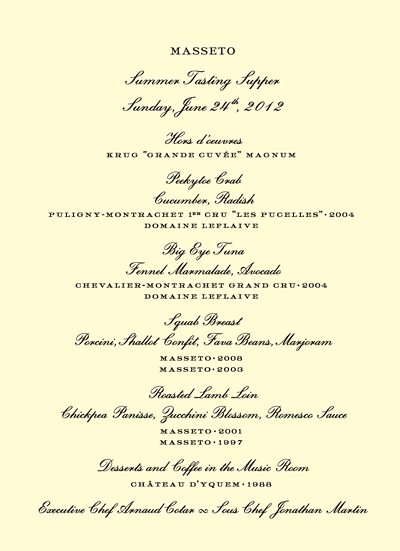 Late last June, came the Masseto tasting, the super Tuscan Merlot that's Italy's answer to Château Pétrus. Christelle Cotar, Blantyre's Wine Director, starts every tasting dinner with the best — Krug "Grand Cuvée" Champagne in magnum, well aged in their vast wine collection. Best follows best: the superb 2004 Puligny-Montrachet "Les Pucelles" from Domaine Leflaive emerged, an immense vintage — a beaker from the Burgundian south. Later, still more splendid Domaine Laflaive — 2004 Domaine Chevalier-Montrachet Grand Cru, a seductive Burgundy so fine that you forgot Bordeaux exists. Then came an interlude — a needed palate rest and culinary quiet for twenty-two guests — in preparation for pièces de résistance: four Masseto, the 2008, 2003, 2002, and 1997, some of winemaker Axel Heinz' very best. (We couldn't resist the philistine impulse at calculation: a single bottle of each Masseto vintage served that evening would cost in excess of $3,000.) The Masseto (ever opulent, silky, chocolate — a magnitude!) was all the greater for the two courses — a perfect culinary marriage of squab breast followed by roasted lamb loin — prepared by Executive Chef Arnaud Cotar and Sous Chef, Jonathan Martin. A Blantyre dinner is about food and wine and appreciation. There is no music, nothing to detract from the experience of Masseto or of Cotar's fine fare. There is simply conversation, and great wine and food have a way of enhancing infinitely the art of conversation. The evening ended with guests adjourning to the music room for a glass or two of 1988 Château D'Yquem, one of the finest Sauternes vintages of the 20th century, and to listen to Armenian pianist and nationally known artist, Karen Tchougarian, playing Chopin and Beethoven. Not incidentally, the wait staff has the precision of a Prussian army: it is correct, efficient, graceful. Chefs Cotar and Martin and staff are as much a part of the showcase as were the wines. This is why you come to Blantyre. It's enough to make you regret deeply the extravagance spent on lesser dinners and worse wines elsewhere.
---
Annual Cigar Smoker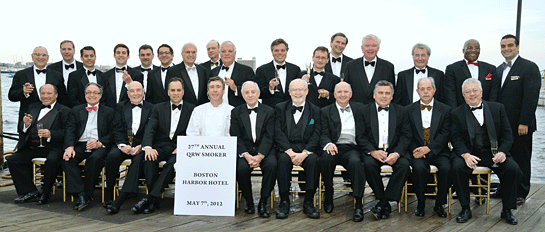 If it's the first Monday in May, then it's Smoker time. For more than a quarter century — twenty-seven in fact — the Quarterly Review of Wines and the Boston Harbor Hotel have joined to present a Boston tradition — an institution really. Even people uninterested in smoking fine cigars often inquire about the Smoker's existence, saying, in effect, they admire the 19th century ancestral idea that some things in an otherwise gyrating world remain anchored, that a respite from the world's din and a quiet search for the elegance and comfort that fine wine, food, and cigars can provide are things devoutly desired. Herb Cares, the majordomo and friend of QRW, oversees much of the black tie evening. He makes sure little or nothing changes, which is exactly the way the thirty gentlemen want it. It starts with a Champagne reception and cigar offerings in the hotel's Pavilion; then there's the introduction of each other — despite the fact that we've all known each other for decades; the telling of some tall tales and other risqué fictions is next; and finally, the annual award — a postage stamp drawing of a deserving Smoker and fellow reveler. The dinner menu prepared by Chef Daniel Bruce, the city's culinary star, is virtually unvaried. The menu appears mundane but the preparation and ingredients of Chef Bruce's menus make all the difference: classic New England raw bar, lobster, maple smoked salmon, foie gras, roasted lamb sirloin, prime beef tenderloin, various seasonal cheeses, and the pièce de résistance — a chocolate cigar dessert filled with vanilla and apricot and mint enveloped in a chocolate gift box and paired with a younger Beerenauslese. In this case, seeing is believing, but tasting is even better! It's our created version of the older and gentlemanly British Smoker, but with better food and elegance and style. It's love of tradition, of something personal and respectful that perpetuates the event. The wines: 1993 Taittinger Comtes de Champagne, Sauternes 1988 Château Rieussec, 2010 Molly Dooker, 2005 Clos de Vougeot, 2007 Dominus, 2008 Kracher Beerenauslese, along with exceptional postprandial spirits (Louis XIII, 30 Year old Malts, and 1977 Fonseca Port, among others). And did we mention cigars? Some of the world's best: Arturo Fuente, Ashton, Cohiba, Davidoff, La Flor Dominicana, Rock Patel, Padron and Punch. Only those who have a feeling for it understand.


---
The Legal Sea Foods Sommelier Challenge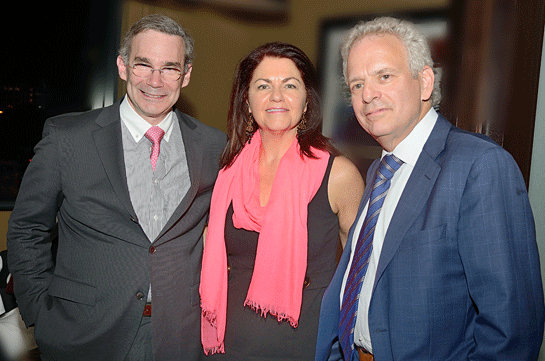 Roger Berkowitz, President and CEO of Legal Sea Foods; Karen Cares; and Sandy Block, Vice President of Beverage Operations of Legal Sea Foods
With iPhones, Androids and other electronic devices delivering more wine information easily and efficiently than ever, one can reasonably ask: are sommeliers necessary? Will the sommelier profession, which is much concerned these days with degrees and official letters and titles after their names, cease to exist? At least for now, the life of the sommelier is safe and alive, and periodicals like Sommelier Journal help to keep it so. Last summer, Legal Sea Foods was the site of a Sommelier Challenge — (it's a multi-city event) pitting sommeliers from various restaurants against each other. The Boston event took place at Roger Berkowitz' newest restaurant at Harborside, which offers a splendid view of the city's harbor, tall ships, and airport. The sommeliers are asked to put together suitable pairing of wines from the restaurant's list. A special menu is also created for the Challenge. The participants — Brahm Callahan wine director of Grill 23 and Jason Irving, general manager and sommelier of Deuxave — receive the wine list and menu in advance, and have five days to create their pairings. Three professional judges, including one from the home restaurant, are asked to offer their views, select the best pairings, and choose a winner. Sandy Block, Master of Wine from Legal Sea Foods, Len Presutti, wine educator for Martignetti's, the area's largest distributor in New England, and Richard Elia of Quarterly Review of Wines were judges. The fifty diners at the event were also called upon to voice their opinions, but none was included in the voting. For the first course, Legal's chef, Robert Fathman, offered Lobster Soup with Oloroso Sherry and Puff Pastry; the selected wine marriages were 2002 Laurent Perrier Champagne (Callahan/Grill 23) and 2006 Kumeu River Chardonnay (Irving/Deuxave); the Kumeu Chard was the winner by a 2 to 1 vote and was praised for its "balancing acidity" (dissenting vote by Elia). Next course was far more complex and challenging: Seared Foie Gras with Chocolate Brioche, Cherries and Candided Ginger: the wines were the 2009 Stemmler Pinot Noir, Nugent Vineyard (Callahan) and 2008 Beckmen Vineyards Cuvée Le Bec (Irving); Beckmen was the unanimous choice and was lauded for its "spice, chocolate notes and firm finish." The final course was Sautéed Abalone with Guanciale-Wrapped Asparagus and Lemon, a Legal Seafood signature dish; the wines were 2008 Franz Hirtzberger Gruner Veltliner Smaragd Axpoint (Callahan) and a 2009 Burgundy from Vincent & Sophie Morey Santenay Les Gravieres (Irving). The Austrian Hirtzberger was the unanimous choice, and noted for its "minerality ... the wine was made for this dish." The winning sommelier was Brahm Callahan who goes to the semifinal round held at Upstairs on the Square, Harvard Square.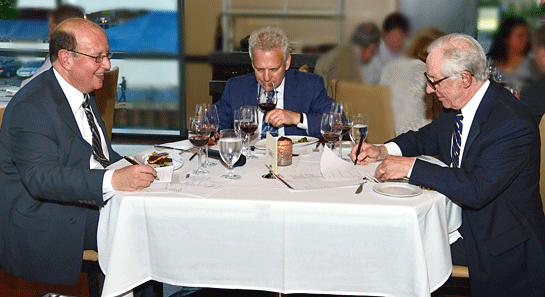 Judges Len Presutti, Sandy Block, and Richard Elia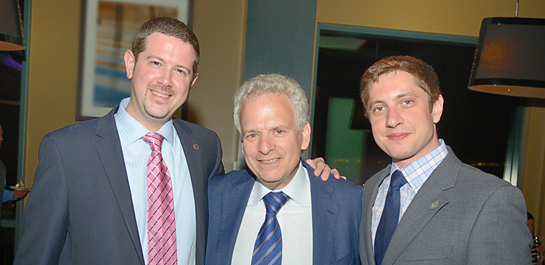 From left: Sommelier Jason Irving of Deuxave, Sandy Block, and Sommelier Brahm Callahan of Grill 23
---
Arnaud Weyrich of Roederer Estate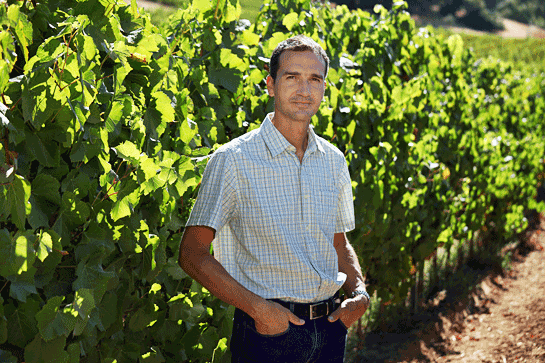 Roederer winemaker and vice president Arnaud Weyrich
While most California sparkling wines continue to get better, some get greater. Two come to mind: Schramsberg and Roederer Estate. Winemaker and vice president Arnaud Weyrich of Roederer stopped by recently and over lunch we tasted his latest releases. We knew we weren't going to be disappointed; since its introduction in 1988, Roederer has never disappointed. The winery is about 125 miles north of San Francisco up Route 128 on the Mendocino coast with vineyards in Anderson Valley, a perfect and cool climate for Chardonnay and Pinot Noir, the principal grapes of Champagne/sparkling wine. Speaking with Weyrich, it's easy to understand why critics have said he's like his wines: correct, confident, elegant, engaging. They're also consistent, nutty, creamy, with flavorful pear and apple notes. Weyrich has no difficulty explaining Roederer's successful evolution, which some of his competitors have not experienced. "We have our own vineyards — all the sparkling wines are 100% Estate grown — and we have our own oak Reserve Casks." The oak casks are the essential part of Roederer's success because reserve wines add to the necessary character and depth to the sparkler. Taste California sparkling wines and you'll find most of them are good, aromatic, tasty, but without much depth and complexity. Oak reserves make all the difference. "We have six hundred acres," continues Weyrich, "we're environmentally responsible and sustainable; ninety acres are organic and another twenty-two are biodynamic [seeing the soil as a part of a symbiotic relationship of planet, air, cosmos and constellations; it's the spiritual — and still controversial side — of winemaking]." Weyrich started his professional life with the House of Roederer in Reims, France more than twenty years ago, after graduating from Ecole Superieure d'Oenologie in Montpellier with Masters degrees in Viticulture and Enology. With a mere "but, of course," he admits unhesitatingly in producing his sparkling wines in the manner and spirit of the French house. "Roederer has supplied me with the best — perfect acreage, oak barrels, terroir, and vineyards — mais, oui." He produces four wines: Roederer Estate NC ($20), Roederer Estate Rose NV,($25), "L'Ermitage 2002 ($40 — first made in 1993 and produced only in ideal years, and clearly a favorite bubbly among professional tasters) and L'Ermitage Rose 2003 ($70). But it's the Roederer Estate NV and the quality of this wine that claims our attention. For serious suppers, for everyday drinking, for parties, and the like, it's astonishingly good — and surprisingly inexpensive. Like all good bubbly, the wine should be dry, pert, with brioche aromas, crisp, elegant, showing pear and nutty notes, with elegance and length of finish. (It's a tall order even for the best Champagnes in France.) That the Roederer has much of these characteristics (its only flaw is a slight California sweetness) and that it's made in the spirit of Reims goes unquestioned. Place it in a blind tasting, and it not only shows the spirit of Champagne, it could easily be experienced as Champagne. That's the real success of Roederer Estate NV. "I hope you enjoyed the wines," said Weyrich modestly as we parted. "Mais, oui," was the only and obvious answer.