Cellar For A Lord
Wine suggestions for Downton Abbey
Richard L. Elia
---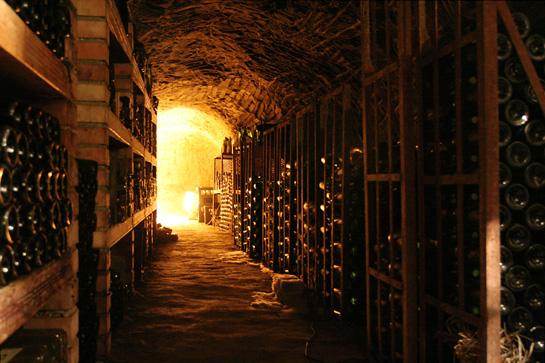 Photo: Petr Novák, Wikipedia
Above we had suggested that Sir Richard Carlisle, the nouveau riche newspaper magnate of scandal, send along a few cases of vin ordinaire to Downton Abbey, but being rejected by the estimable Lady Mary, this appears unlikely. So we offer a few suggestions to Lord Grantham and to his creator, Mr. Fellowes.
Like most English aristocracy, all Lord Grantham had to do was consult with the posh wine purveyors, Berry Bros (later Berry Bros & Rudd), England's oldest retailer in London created in 1698 and still at the St. James Street address. Berry Bros obtained some royal PR when Edward VII made it his favorite wine purveyor. With thanks to Vicky Williams of Berry Bros & Rudd, we have had access to their 1920 Bordeaux wine pages and its prices. The year 1920 seemed appropriate because, after the Great War, Downton Abbey was transforming itself from hospital back to grand manor.
Wines & Prices/Bordeaux
Our suggestions concentrate on Bordeaux generally and on Chateau Lafite specifically, because this was the wine Thomas, the thieving servant, stole from the wine pantry. If Lord Grantham were serious about creating a wine cellar, he wouldn't have a lot to choose from because the vintages from 1901 to 1910 were, according to Michael Broadbent (the oracle of such things and author of The Great Vintage Wine Book) were generally "light" and the "weather inclement." World War I, of course, disrupted winemaking in France, and vintages from 1912 to 1917 went without much ranking. Only the 1911 Bordeaux, says Broadbent, escaped, offering a "good, small vintage." But the truly great vintages — all eminently available at the time — were the 1870, 1875 (both "wonderful" pre-phylloxera wines; the dreaded phylloxera louse didn't appear at "Chateau Lafite until the 1876 vintage"); both the 1893 and the 1900 were also the stuff of legends, and generally described by Broadbent as "opulent, delicious, magnificent." Berry Bros could have sold Downton the grand 1870 Lafite for £150 per dozen — $750 U.S. as the British pound was worth approximately $5 in 1920. (Today, a bottle of 1870 Chateau Lafite costs in excess of $16,000 a bottle!) If, after the war, money was tight, Lord Grantham could have purchased a dozen 1893 Chateau Palmer, Second Growth, for a proverbial song — £78 per dozen ($390 U.S.). Curiously, Berry Bros was offering the lesser 1911 vintage (3 Stars) for more money: for example, Chateau Ausone, a Premier Grand Cru, which lacked the reputation of Lafite, was nonetheless selling for £180 (about $900 U.S.).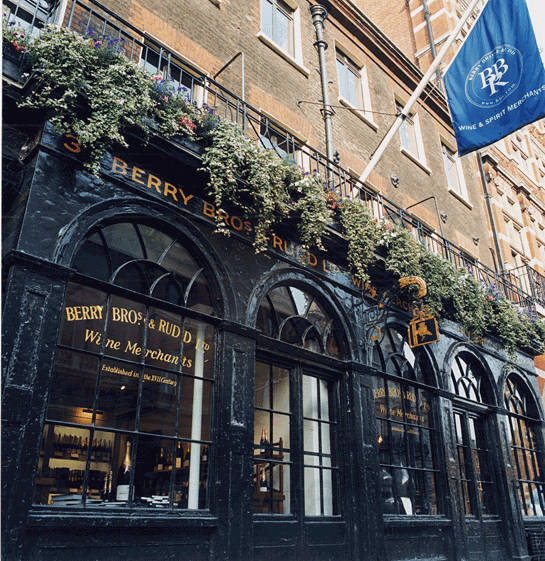 An Edwardian Passion: Champagne
So much romance has surrounded Champagne that it would be difficult to envision an Edwardian Abbey's cellar without it. It was the drink found at the Derby, the famous British racing scene. It was part of the tradition of Wimbledon since its earliest days in 1877. Byron loved Champagne. Oscar Wilde was passionate about it, as was his fellow Irishman, George Bernard Shaw. Evelyn Waugh used it abundantly in Brideshead Revisited. John Maynard Keynes had "one regret in life: that he didn't drink more Champagne." Our imaginary Downton cellar must have a goodly amount, and it was plentiful yet expensive, even at the start of "Belle Epoque" (1890s). In France, Champagne was sweet; the British, however, preferred theirs dry (brut), and the major grand marque producers were happy to alter production. Vintage Veuve Clicquot, Bollinger, Moët, Pol Roger, and Krug led the way, and the excellent 1906 and 1911 vintages were selling at Berry Rudd for the same prices — £360 per dozen ($1,800 U.S.). For less important guests (Americans for instance) Lord Grantham could have served non-vintage Bollinger or Perrier-Jouët, but would have found little financial relief, as both sold for £232 per dozen ($1160 U.S.).
Traditional British Wines: Port and Sherry
Since 1703 with the Treaty of Methuen (which allowed for no taxation on Port entering the U.K.), Port has been a mainstay of British society. Some savvy Brits invested heavily in Port, and subsequently created the Factory House (1729), where British Port shippers met and dined and connived, creating a monopoly. Port has always been inexpensive comparatively and locking away a Pipe of Port in some cellar anywhere on the bank of the Thames would be an aristocratic given. The Port vintages were fabulous, according to Broadbent, and all were easily available to Lord Grantham, who could have gloried in his vintage collection. The 1896, 1897, 1900, 1908, 1912, and 1920 all warranted 5-Stars. Cockburn, Sandeman, Taylor, and Croft were some of the many shippers leading the way. Cockburn and Sandeman earn most of Broadbent's Port praise, and he calls the 1908 Cockburn "arguably the greatest-ever Cockburn."
Unfairly or not, Sherry is the least praised of wines. It is, however, the most ubiquitous among the English aristocracy and the Oxford-Cambridge academic set. Whatever the problem, the Brits start to solve it with Sherry. It has been much lampooned because it became the stereotypical British wine of the movies. It's often found in a crystal decanter — decanted God knows when — and poured into Irish Waterford glasses. Significantly, Sherry does not receive an entry into Broadbent's Great Vintage Wine Book. So, our Lord Grantham, if he were economizing (and the cost of running Downton is a dominant theme), he could have had his butler Carson store plenty in the pantry and close his eyes to Thomas' Sherry thefts. One, of course, could justify the thieving by reasoning that Thomas was at least lowering his standards. Whatever, with the new wine cellar, Carson had better keep his eyes on the keys, and serve the good stuff to the newly emerging classes who, with the death of so many young aristocrats in World War I, will dominate England and this drama.
---
Related article: