All Things Grape and Small
Randy Sheahan
---
Add Angelina Jolie and Brad Pitt to the list of celebs who have their own wine label. The glam duo recently began producing red, white and rosé wines at Chateau Miraval, their 1,200-acre estate in France's Cotes de Provence. And to show how serious they are about the project, Brangelina have enlisted the Perrin brothers of Châteauneuf du Pape's Domaine de Beaucastel to make and market the wines. By the way, the Miraval rosé is named "Pink Floyd," in honor of the band having recorded their 1979 album, "The Wall," in a studio on the estate grounds.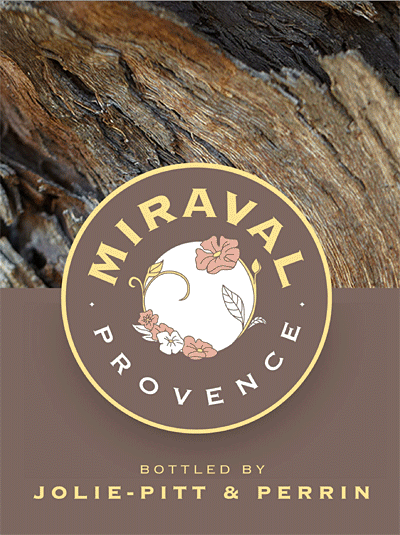 ---
Robert Parker's Wine Advocate was sold to a Singapore investor last December for a reported $15 million. And while Parker himself is staying on as CEO and Chairman of the Board of the newsletter he founded in 1977, his role as editor-in-chief has been ceded to Lisa Perrotti-Brown, a Singapore-based M.W. This was obviously a blow to Parker's right-hand man and presumptive heir, Antonio Galloni, who announced in February that he was leaving the Advocate to start his own on-line site.
---
QRW mourns the death of our old friend Henri Krug, who passed away March 7 at the age of 75. From 1962 until his retirement in 2002, Henri was the winemaking genius behind Champagne Krug, the Reims-based luxury Champagne house founded in 1843 by his ancestor, Johann-Joseph Krug. While his younger brother, Rémi, was the public face of Krug, Henri remained more or less in the background, safe-guarding the quality of Krug's signature Champagne, Grande Cuvée, a long-cellared (six years minimally on the yeast) multi-vintage blend, and overseeing, too, a host of remarkable single-vintage releases, a few of which (the 1982 Krug comes to mind) seem destined to live forever.
---
Exports of U.S. wine to foreign countries set a new record in 2012, totaling 112.2 million cases and bringing in $1.43 billion. The biggest foreign buyer of American wine was the 27-member European Union, with $485 million in purchases, followed by Canada ($434 million), Hong Kong ($115 million), Japan ($111 million), China ($74 million), Vietnam ($27 million), Mexico ($20 million) and South Korea ($16 million). California, not unexpectedly, was the main beneficiary, accounting for 90 percent of all U.S. wine exports.
---
And speaking of the Golden State, their 2012 wine-grape harvest set a record for crop-size (4.013 million tons) and for the average price paid per grape-ton ($772.09).
---
Bordeaux school children aged six to 11 can now learn the ABCs of wine through La Gironde Verte, a program run by the Bordeaux Wine Bureau (CIVB). Under the program, for which schools must sign up, kids will travel to local vineyards, where they can taste grapes right off the vine and pose questions to winemakers. The object, says CIVB President Georges Haushalter, "is to protect the heritage of the region, while promoting an understanding of the civilization of wine."
---
Drinking wine helps to prevent sunburn, says a study by the University of Barcelona and the Spanish National Research Council. According to the researchers, flavonoids in grapes and wine block the chemical reaction that causes the skin to burn when it's subjected to the sun's ultraviolet rays. So before you go outside this summer, cover your body with Cabernet Sauvignon, and you'll be just fine.
---
These are tough times for Beaujolais producers. According to reports in the French press, as many as 200 of them are set to shut down because they can't pay the costs of the 2012 vintage, which, owing to difficult weather, was 40-percent smaller than 2011.
---
House of Mandela, a new South African wine brand, has just been introduced in the U.S. And yes, it's Nelson Mandela's family — more specifically his daughter, Makaziwe, and granddaughter, Tukwini — who are behind the project, with the wines being made for them at four top South African wineries: Fairview, Hartenberg, Thelema and Villiera. Two quality tiers are offered: "Thembu," a fighting varietal line-up of six wines (including Cabernet, Shiraz, Chardonnay and Sauvignon Blanc) slated to retail for $12.99 to $15.99 a bottle; and "Royal Reserve," a high-end Shiraz and Cabernet, each of which will sell for about $50 a bottle.
---
You may want to think twice before you rent your home to Jordan Vineyards. Larry Saliterman, an Aspen, Colorado homeowner, is suing the Sonoma vintner for $10,500, saying they trashed his kitchen and unduly soiled his carpets when they leased his house last June during the 2012 Aspen Food & Wine Classic.
---
The bloom may be off the rose for Argentine wines. U.S. imports of gaucho juice were down 11 percent in 2012, the first decline after 11 years of steady growth.
---
Author Rex Picket says South America will be the setting for the third volume of his Sideways trilogy (the first two volumes being Sideways itself and Vertical). Writing on his website, Pickett says that Miles, his forlorn protagonist, "has sucked the marrow out of the Pacific Coast and wants a change. He could have gone to France, but everyone's done France. Events will conspire to take him to Chile."
---
And by the way, what's happening with France? Wine consumption there has declined by more than 50 percent over the last 40 years. And according to a recent poll, only 17 percent of the French drink wine on a daily basis, while 38 percent claim to be teetotalers. Sacré bleu!
---
Tennis star Roger Federer has been hired as celebrity ambassador for Moêt et Chandon Champagne, in a five-year deal said to be worth $30 million. Federer, winner of 17 Grand Slam tennis titles, also has endorsement deals with Rolex, Mercedes-Benz, Nike, Wilson rackets, Lindt Chocolates, Gillette razors, Credit Suisse and NetJets (which offers fractional private jet plane ownership). The Moët et Chandon deal brings his annual outside earnings to just under $48 million, almost six times what he makes playing tennis. Not a bad racket ...
---
Two Sauternes giants, Chateau Yquem and Chateau Rieussec, say they will make no wine in 2012 owing to the poor quality of the vintage.
---
American artist Jeff Koons, who some have derided as "the Willy Wonka of art," has designed the label for Chateau Mouton Rothschild's latest offering, the 2010 vintage. The design, which superimposes a graffiti-like drawing of a silver sail boat on an ancient Pompei fresco of Venus recumbent, is — needless to say — no opus for the ages. It's a shame such great wine has to be so poorly attired.
---
Two California scientists, Yunfeng Lu of UCLA and Cheng Ji of the University of Southern California, claim to have invented a sobriety pill. Made up of alcohol-eating enzymes, the pill has proved to be a quick soberer of besotted mice, but has yet to be tested on humans. One can hardly wait.
---
Here's one from the "Monumental Waste of Time, Effort and Money" department. Claiming that "wine recovered from shipwrecks has been shown to have a remarkable taste," Napa Valley's Mira Winery plopped 48 specially secured bottles of their 2009 Cabernet into Charleston (South Carolina) Harbor this February and say they will keep the bottles submerged for three months "to gauge the effects on the chemistry of the wine." But does anyone really care?