Chianti Classico:
A Guide for The Perplexed
Tom Maresca
---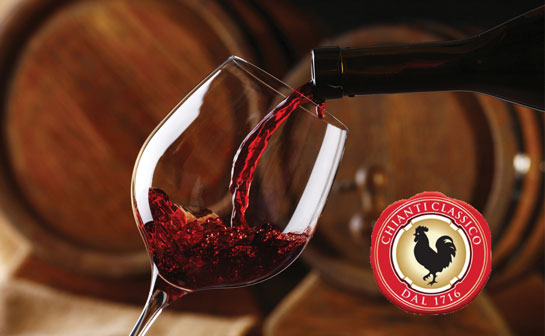 Chianti Classico is a wonderful wine, always enjoyable and a delight with foods of all sorts. It can be fresh and engaging or complex and intriguing, and the more you know about both the wine and the zone the more you find there is to know. That's why, delightful as it, it is also constantly perplexing. Chianti Classico isn't one wine, but legion.
Let's get as basic as we can, and start with the name: If the label says simply Chianti, then it isn't Chianti Classico at all, but one of several satellite appellations – Colli Fiorentini, Colli Senesi, Colli Pisani, Colli Aretini, Montalbano, Montespertoli, and Rufina. All these Chiantis result from the 20th century expansion of the Chianti name from its historic heartland, which is now – to distinguish it from these epigones – designated Chianti Classico. This swathe of castellated hills, which runs south from almost the walls of Florence into the northernmost reaches of the province of Florence's ancient rival, Siena, still produces the best wines of them all – which is why it's definitely worth checking the label as your most basic step in Chianti shopping.
But perplexity won't stop there. Even within the Classico zone, multiplicity reigns. More than 500 growers, more than 300 bottlers, are spread out over an enormous variety of soils, elevations, and exposures. They cultivate primarily Sangiovese – it must constitute a minimum of 80% of a Chianti Classico DOCG – plus Canaiolo, Colorino, and a few other indigenous Tuscan varieties, plus Cabernet and Merlot, any of which may be used for up to 20% of the wine. That is God's plenty of variables right there. Throw into the mix variations of individual styles, vagaries of weather, and the age at which each producer chooses to release the wine: Many prefer to age it longer, sometimes considerably longer, than the legal minimum of one year for the basic wine and two for the Riserva. Then add in the perplexities of Chianti Classico labeling – the basic DOCG wine, Riserva, cru bottlings, and now Gran Selezione – and you can easily see why most generalizations about Chianti Classico are futile. Any rating of a Chianti Classico vintage, for instance, can only be taken as advisory for any individual wine. That wine lovers persist in trying to come to terms with this hydra of a wine is in itself proof of its enduring charm and appeal, and just how great the rewards of perseverance can be.
In most years, at the season I began writing this, I would be in Florence at the Chianti Classico Consorzio's annual event, tasting somewhere between 200 and 300 samples over a few days of concentrated palatal work. I couldn't do that this year, but with the help of the Consorzio and individual producers, I've gathered a random sample of Chianti Classicos to taste here. Random is the key word: Many of my perennial favorite Chianti Classicos aren't represented, but the sample is large enough to justify at least a few guarded generalizations about what has been happening in this fascinating corner of Tuscany in the teens of this still young century.
For the sake of clarity, I'll talk about the wines by category: DOCG, DOCG Riserva, DOCG Cru, and Gran Selezione, the last of which the producers esteem as their acme bottling. Because different producers release bottlings of different vintages at different ages, the vintages of the wines in most of these groups will vary considerably.
DOCG
This is the "basic" wine, the "normal" Chianti Classico. Every producer who bottles makes this one. And in some respects, it's the best of them – or at least it's my favorite, and that of many other wine professionals, because without any frills or fancy doodads, it offers the heart of what Chianti Classico is: sapid Sangiovese fruit, all cherry and sotto bosco, enlivened by sprightly, food-friendly acidity. As a wine for all seasons, it's hard to beat.
I tasted a lot of just-bottled 2014s (even some barrel samples) and almost as many 2013s. The Consorzio tactfully calls '14 "a quite unusual year." Simply put, there was way too much rain most of the year, creating all sorts of health problems in the vineyards; only late-arriving decent weather – mid-September into October – enabled growers who had had patience and fortitude to salvage a crop. I don't think these are wines for keeping but for drinking in the near term. The examples I most enjoyed include Badia a Coltibuono RS, Bibbiano, Villa Cerna, Vignamaggio Terre di Prenzano, and Castellare, The Castellare was head and shoulders above most of the other wines I tasted from this vintage. It was elegant, round, and long-finishing, already composed for so young a wine. The other wine that tied for my top spot in this vintage was Volpaia, which opened with a beautiful light woodsy/cherry nose, and a palate that followed suit – a fresh and charming wine with rich, satisfying fruit.
The 2013 weather was far kinder: Drier, warmer, and with a perfect September, it gave wines with much greater balance and charm and a lot of true Sangiovese character. They can be drunk with pleasure now and will hold nicely for at least five years, perhaps more. In this group, the top wines were Borgo Scopeto, nice and soft and relatively full-bodied; Carobbio, with nice cherry-mulberry-chocolate nuances; La Gabbiola, with fine fruit and appealing vivacity; Molino di Grace, an otherwise excellent wine slightly marred for me by a tad too much oak; the quite similar Toscolo; the nicely balanced San Giusto a Rentennano; and Poggiopiano, the best wine of the group, which was rich with lovely Sangiovese fruit and perfectly balanced.
2012 reversed the weather pattern of '14: Dry with blazing heat all summer long, it broke in late August and early September with cooler temperatures, much-needed rainfall, and perfect day-night temperature variations, resulting in a small crop of really fine Sangiovese. A few months after harvest, the Consorzio opined that "2012 promises very balanced wines, with excellent ratios of alcohol, acidity and polyphenols that seem to be guaranteeing mellow products, very fruity and with good but not excessive alcohol content." I'd say that was just about right: The great majority of the wines of this vintage that I tasted were fine examples of their breed.
The ones I liked best were Castello di Meleto and Castello Monterinaldi, both finely fruited and well balanced; Clemente VII, from the exceptionally good co-op Castelli de Grevepesa, Lamole di Lamole, from vineyards on mineral-rich soils near Greve, and the outstanding Fontodi, from Giovanni Manetti's meticulously maintained vineyards in the Conca d'Oro of Panzano.
I tasted only two 2011s, one, Peppoli, from Antinori, which was quite satisfying on the palate but with a (for me) slightly annoying woody nose, and the other from Castello di Cacchiano, which has become a cult wine in Italy, at least in part because it holds its wines so long before release. This was truly lovely, with an enchanting Sangiovese nose and wonderful fruit and elegance.
And from 2010, I tasted only Poggiopiano's La Tradizione, which was also wonderful – still young and live, with beautiful Sangiovese fruit and excellent acid/tannin balance. This is not a cru, but a selection of the best grapes from several vineyards, and it is a wine to look for in any vintage.
DOCG Riserva
The best of these, where the producer has made a careful selection of the grapes or vineyards that go into it, can be marvelous — deep and complex and structured, with all the charm of the "basic" wine underlying everything that the choice of the best grapes and extra aging time can add. But too often Riserva has come to mean nothing more than the basic wine with simply a little more aging that adds nothing to it and, in the worst instances, simply robs it of its fresh charm. This is the category where it pays to stick with the most highly reputed labels, and to be suspicious of bargains.
My tastings understandably didn't include many of these among the younger wines: among the few, the 2013 Castello di Gabbiano Riserva was enjoyable, with hints of beginning complexity, while the always reliable Banfi Riserva showed excellent Chianti character and style. The Cecchi Riserva della Famiglia and Villa Cerna Riserva were the finest of these very young wines.
In 2012, I found San Giusto a Rentennano's Riserva Le Barancoli quite enjoyable – round, elegant, and balanced, with pleasing cherry/mulberry fruit.
2011 showed lovely cherry-ish fruit and nice balance in Castello di Monterinaldi and Gabbiola. The best of this vintage that I tasted included Badia a Coltibuono's 2011 Riserva and Cultus Buoni Riserva, Borgo Scopeto's Vigna Misciano, and Lamole di Lamole Riserva 2011.
And in 2010, both Toscolo Riserva and Villa Antinori Riserva showed excellent balance as well as some complexity and elegance.
Castello di Cacchiano submitted the oldest Riserva, a 2006, and like all its wines, it was fine — big, soft, and elegant, with a heady aroma of earth and dried fruits.
DOCG Cru
The Chianti Classico Consorzio doesn't recognize "cru" as a category, but as long as vineyard names appear on labels, consumers will; and rightly so. From the best places — estates in the justly prized Conca d'Oro, for instance — and in better vintages, these can be fantastic wines, with all the properties of the preceding two categories of Chianti Classico expressing themselves in the peculiar language of an individual great vineyard. If you've found one you like, stick with it, or look for other wines from the same sort of terroir. This is the area where a little research will help you a great deal: Check out the Chianti Classico Consorzio's website, or the websites of individual producers you're interested in. You'll be amazed by how much you can learn with a little digging.
Note: Many of these wines have in just the past year or two been re-categorized by their producers as Gran Selezione, so the majority of the samples I tasted will be reviewed there. This is a development that gives me greater faith in the new classification than I might otherwise have had.
Gran Selezione
This is Chianti Classico's newest category (created in 2013), and in theory its highest. I'm still a little ambivalent about it, partially because I keep thinking that the last thing Chianti Classico needed was another change to confuse consumers with, and partially because I remember that all the problems Gran Selezione is supposed to solve were supposed to have been solved before by earlier changes in regulations and labeling. But hope springs eternal: Maybe this time the magic will work.
Here's what Gran Selezione is supposed to be: The grapes must come from a single vineyard or be a selection of the best grapes from several vineyards; the wine must be aged for 30 months, of which three are in bottle; and it must pass strict requirements of alcohol level, acidity, and extract, as well as win the approval of a panel tasting for quality and typicity. If the growers and the Consorzio can make that work, and I sincerely hope they can, then Bravo! Chianti Classico will have entered a whole new relationship of confidence with its consumers.
So here are some examples of the first few years of Gran Selezione production. The youngest wines were from 2012, and the best of those I tasted were clearly Fontodi's Vigna del Sorbo — probably my favorite wine of the whole tasting — and Castello di Gabbiano's Belleza. Both will improve for several years yet, and should last many years beyond that.
Among a handful of 2011s, Mulino di Grace's Il Margone (the fruit triumphed over the oak) and Lamole di Lamole's Vigneto di Campolungo stood out.
The sole 2009 example I tasted was Castello di Cacchiano's Millennio Gran Selezione, and it was just lovely: soft fruit, fine balance, great mouth feel – the kind of wine that makes me hope this new Chianti Classico category may truly be a triumph.