33rd Annual Best of The Best:
California Sparkling Wines
QRW Tasting Team
---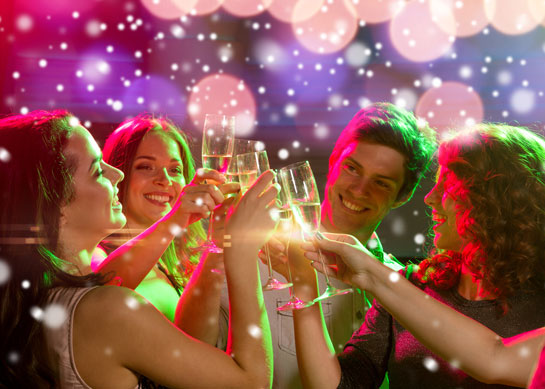 Sparkling wine: it's your party's best friend. A glass of bubbly with the requisite CO2 engages the brain and heightens the happiness of the dourest of souls. As ever, Quarterly Review of Wines keeps its wine tasting notes to a bare minimum. Generally, all sparkling wine in California share a common tasting core: apple (baked or green), apricot, peach, pear, brioche, creamy, hazelnuts, honey, and lemon. If we can find a fault with California sparklers, it's that some of them can be on the sweet side. The following selections avoid this.
Vintage
---
2007 Schramsberg Reserve, North Coast, $120
Expensive, in the league with Champagne's tête du cuvée, but you're paying for the experience: apricot honey, lemony, strawberry, rich, deep, complex and long. CO-BEST OF SHOW
2006 J. Schram (Schramsberg), North Coast, $120
As with the Schramsberg (above), a superb bottling. Apple, toasty, hazelnut, rich, creamy, and elegantly long. CO-BEST OF SHOW
2008 Domaine Carneros Estate Le Rêve Blanc de Blancs (Taittinger), Napa Valley, $50. Pear, brioche, creamy, citric, zesty, with depth in the finish.
2010 Iron Horse Russian Cuvée, Green Valley, $42. Brioche and apple and hazelnuts amidst charm and polished creamy finish. BEST BUY
2011 Iron Horse Wedding Cuvée, Green Valley, $44. Raspberry, citrus and lemony notes, with sensual texture and finish.
2007 L'ermitage Brut (Roederer Estate), Anderson Valley, $50. Rich plum, oak spice, blackberry flavors, silky tannins, with rich black cherry in an elegant, delicious, and stylish finish.
Non-Vintage
---
J Cuvee 20, Russian River/Sonoma, $28. Apple, citrus, pear, softly sweet, good depth.
Roederer Estate Brut, Anderson Valley, $25. Citrus, peach, nuttiness, toasty, softly sweet, finishes well. BEST BUY
Schramsberg Mirabelle Brut, North Coast, $26. Apple, peach, nutty, creamy, lemon custard , and engaging finish.
---
Related articles, 33rd Annual Best of the Best Wines:
• 33rd Annual Best of The Best: California Pinot Noir
• 33rd Annual Best of The Best: Champagne Tasting
• 33rd Annual Best of The Best: Non-Vintage Champagne
• 33rd Annual Best of The Best: California Cabernet and Red Blends
• 33rd Annual Best of The Best: California Sauvignon Blanc