All Things Grape and Small
Randy Sheahan
---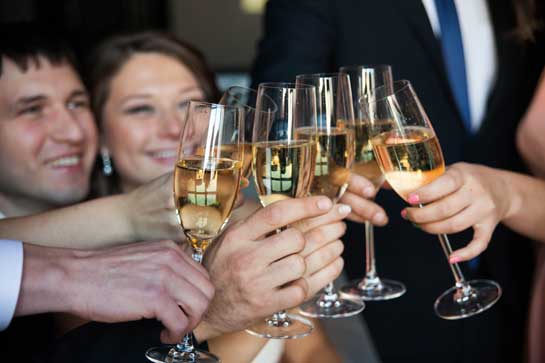 We're number one! According to the Beverage Information and Insight Group's 2015 Wine Handbook, U.S. drinkers continue to lead the world in total wine consumption, having purchased 328.6 million nine-liter cases of vino in 2014—a one percent increase over the previous year.
---
The benefits of wine appear to have no end. Indeed, a recent Australian study shows that up to 400 liters of inexpensive biofuel can be sourced from one metric ton of pomace, the residue of skins, pits and stems left over from winemaking. To learn more, see the October 2015 edition of the journal Bioresource Technology.
---
E & J Gallo has added a new jewel to its crown. In late-August, the Modesto, California megalith acquired Talbott Vineyards, a leading wine producer in central California's Santa Lucia Highlands AVA. The centerpiece of the purchase is Talbott's 525-acre Sleepy Hollow Vineyard, a source of top-notch Pinot Noir and Chardonnay.
---
A flying Champagne cork damaged ceiling panels on an August 7 easyJet passenger flight from London to Dalaman, Turkey, causing oxygen masks to deploy and forcing the plane to make an emergency landing in Milan. I can hear the captain's announcement now: "Fasten your seat-belts, it's going to be a bubbly ride." (Sorry, couldn't help myself.)
---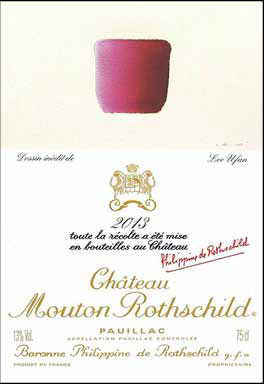 Each vintage of Chateau Mouton Rothschild's redoubtable red wine features a label created by a famous artist. Among those who have designed labels for the Bordeaux First Growth are Joan Miró, Marc Chagall, Lucien Freud and Andy Warhol. The label of Mouton's latest release, the 2013 vintage, features a purply, pot-like shape painted by the minimalist South Korean artist Lee Ufan. Suffice to say, it's an appropriately blah image for 2013, one of Bordeaux's poorest vintages in years
---
In March, Judy Jordan sold her Sonoma-based sparkling wine brand, "J," to Gallo. But she certainly hasn't left the wine business. In fact, on September 20, Jordan used money from the "J" sale to buy three vineyards: two in Oregon, Chehalem Mountain (35 acres of pinot noir and chardonnay) and Eola Springs (72 acres of pinot noir and chardonnay); and one in Napa Valley, Sage Canyon (60 acres of mainly cabernet sauvignon, merlot and cabernet franc). However, the new acquisitions will not serve merely to line Jordan's pockets. They'll be part of an umbrella organization, The Capra Company LLC, whose profits "will be used," says Jordan, "to . . . sustain nonprofit training and mentorship programs for young people." An admirable aim indeed . . .
---
In September, brazen thieves entered the northern Rhone vineyards of E. Guigal and made off with one-third of the Viognier grapes intended for Luminescence, the famed winemaker's top Condrieu cuvée. Guigal will still produce a 2015 Luminescence, but now, sadly, there will be less to go around.
---
You say you'd like to own a vineyard in Napa Valley? Well, be prepared to spend a lot of money. The website Napa Valley Address says that, today, a vineyard in one of Napa's prime areas costs anywhere from $225,000 to $300,000 per acre (yes, per acre), while a vineyard in one of the region's secondary areas runs from $90,000 to $165,000 per acre. But don't despair: A vineyard in one of Napa's fringe neighborhoods can be yours for as low as $35,000 per acre. Such a deal . . .
---
California's Saint Supéry Estate Vineyards and Winery has been sold to the legendary French fashion house Chanel for an undisclosed—but presumably hefty—sum. Based in Rutherford, Saint Supéry owns 500 acres of Napa Valley vines and makes 100,000 cases of wine annually.
---