A Feast For Gourmands
At WGBH Chef's Gala Reception

Katie Curley-Katzman
---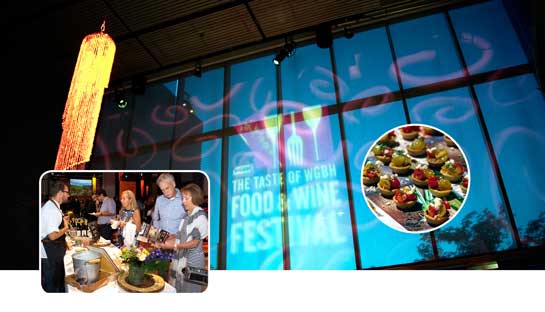 Pouring the unofficial favorite wine of the evening, Michael Bartlett greeted patrons heartily at the annual WGBH Chef's Gala Reception, part of the station's annual The Taste of WGBH Food & Wine Festival. His Renwood 2013 Old Vine Zinfandel ($20) comes from Armador County, California in the Sierra Foothills where it is hot and dry. As party-goers stopped by his table, he explained the old vine Zinfandel is a new style for Renwood — balanced fruit and tannin and a great food wine. And that's a lucky thing because on this night, Bartlett was paired with a succulent duck tamale with mole sauce created by Beat Brasserie in Cambridge. "This is a great showcase for the wines," Bartlett said. "We were paired just perfectly [with Beat Brasserie] and this is such a great event and atmosphere."
The atmosphere was positively bubbling in WGBH's studios as nearly 30 fine wines were perfectly paired with dishes from the Greater Boston area's most talented chefs. Savory eclairs with corn mousse, tomatoes and bacon from 80 Thoreau paired with a 2012 Zotovich Estate Pinot Noir ($50); Beef tongue pastrami bite with mustard seeds and spicy aioli from Talulah on Thames paired with 2013 Uppercut Meritage ($20); a Halibut tartare with buttermilk cracker and herb dressing from Puritan & Co. paired with the delightful Duckhorn 2013 Sauvignon Blanc ($35). "So many people do wine tastings in homes," Bartlett said. "But I like this event because people can actually visualize what food works with the wines."
A beloved event, now in its fourth year, the WGBH Food & Wine Festival is a full weekend of fun for foodies, showcasing over 200 artisans from six states. In addition to the Chef's Gala Reception, the Food & Wine Festival includes a Brunch Bar, the Artisan Taste event, Brewer's Dinner, demonstrations, talks and more. The festival is part of WGBH's commitment to produce and deliver educational experiences for television, radio, the Web and in studio. This year's Chef's Gala Reception was completely sold out.
A popular spot in the reception was the table for Bodega Garzon pouring a 2014 Albarino from Uruguay ($17). Bodega Garzon representative Gary Hill was busy answering questions about the wine's country of origin. "We get a lot of people who have never heard of wines from Uruguay, who even want to know where Uruguay is," Hill said. The winery is the first sustainable winery built outside North America in accordance with the stringent requirements set down by the United States Green Building Council. The beautifully crisp wine was paired with an heirloom tomato and summer corn tart from Woods Hill Table in Concord. Hill said the pairing was done because Woods Hill also prides itself on its sustainability and commitment to organic viticulture—the type of thoughtful pairing that makes the annual gala so unique.
The thought given to the pairings plus, the ability to rub elbows with notable wineries and chefs, is truly an event fit for the more discerning foodie.
Photographs © Carol MacGregor