Meet Tara Empson: Rising Young Star
in Italian Export Wines
Nancy Schultz
---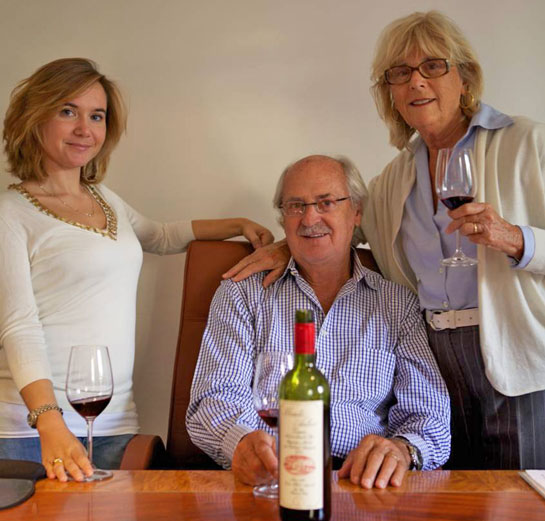 Tara and her parents, wine specialists Neil and Maria Empson of Empson, Inc.
Tara Smeralda Empson arrived at the stunning Poggio al Casone winery in Crespina, Italy to delight us with a tasting of some of the Empson family's line of Italian export wines. The Castellani family, one of the growers who supplies winemaker Franco Bernabei with choice grapes for Empson wines, owns Poggio al Casone, a resort overlooking their breathtakingly beautiful vineyard near Pisa. Best known, perhaps, for their price-friendly, crisp, and light Monte Antico ("old mountain"), Empson, Inc. has focused its efforts on cultivating in the American palate a love of what have become popularly known as "super Tuscans."
With her ready smile and sun-tinged auburn hair, Tara, daughter of Empson wine specialists Neil and Maria, now oversees the Milan office of the family business, whose goal is to deliver consistent Tuscan-style wine to the American table. The petite and vivacious twenty-eight year old is passionately committed to making Monte Antico, an affordably priced blend of Sangiovese, Cabernet, and Merlot, a mainstay in the United States. A member of what has been called the millennial generation, Tara believes that the U.S. market for younger wine aficionados has yet to be fully tapped.
Following a tasting of the versatile Monte Antico (85% Sangiovese, 10% Cabernet Sauvignon and 5% Merlot), we sampled Toscolo ("Tuscan Boy") Chianti, aged two years in oak, followed by a year in the bottle, and Cingnala, "wild boar," so-named by Tara's mother after an incident in which a marauding boar consumed some choice grapes destined for the wine press. Monte Antico also has a reserve wine, Supremus, that is 75% Sangiovese, 15% Merlot and 10% Cabernet Sauvignon that is fairly new to their market. At her young age, Tara already has a few decades of experience in the international wine business to draw on as she begins to build her career.
Born in Rhode Island in 1984, Tara was given her middle name, Smeralda, because of her emerald-colored eyes. She lived there until the age of four, when she moved with her parents to Milan. Her mother, Maria, fondly remembers how Tara used to think that Milan was a place just around the corner, and not a big city in a faraway country. Educated in the Italian school system until age fifteen, Tara was immersed in Italy's language and culture, and traveled with her parents to wine events all over the world. She always knew what she wanted to do when she grew up: to follow in her parents' footsteps.
At fifteen, Tara enrolled in a Rhode Island boarding school, when, she says, her mother realized that she no longer knew how to write in English and was "slowly losing my understanding of what had been my native language." She studied in Rhode Island for two years, and enjoyed reacquainting herself with American English and New England culture. She missed her life in Milan, however, and finished her secondary education at the International School there, which she found to be "a great balance between both cultures and schooling systems."
After graduating from high school, Tara took a year off and travelled with her parents to Australia and New Zealand, her father's native country. There, she spent time with her family and had the great opportunity to scout the southern hemisphere's exciting wine country. Following university study in Rome, she moved back to Milan to begin working for Empson & Co., thus fulfilling her childhood dream.
"Since then," she says, "I have never been happier."
She is extremely proud of the Empson portfolio, which includes grapes from iconic wineries like Jermann, Pieropan, Costanti and Fuligni. Tara continues the Empson family tradition of working with exceptional producers who have been their partners for many years. Tara states, "our growers are selected on the basis of two fundamental principles, the quality of the wines and the quality of the people. This criterion has proved to be a successful one as most of our portfolio has remained strong through the good times and the bad."
Now in her sixth year of working in the Milan offices of Empson & Co., Tara seeks to balance the simplicity and authenticity of the Italian vineyard with the demanding complexities of today's markets. She speaks affectionately of Empson's Italian producers, who still personally greet their visitors, offer them lunch in their homes, and who talk with pride about their vineyards. Tara emphasizes the importance of cultivating relationships along with grapes, affirming the importance of "respect and attention to quality."
The Empsons recently held a commemorative dinner for those growers with whom they had a long association in acknowledgment of their support, mutual affection, and gratitude. The celebration honored the vintners Einaudi, Pieropan and Ca' Rome', who have been their partners for over forty years. It was also a "family event" in many ways, underlining the importance that personal relations have always held for the Empsons. Tara, as a member of a rising generation of wine specialists, will continue to emphasize these traditional values as a trademark of the Empson family business.