Meet Aonair's 'One Man'

Katie Curley-Katzman
---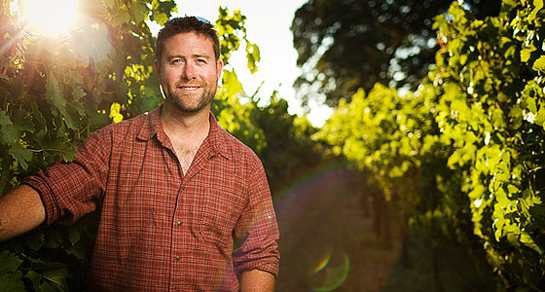 Grant Long
Aonair Wines is Gaelic for "one man" and it is just one man indeed – owner Grant Long, Jr. nurtures the grapes every step of the way from "raw to real."
He eschews social media, calling it a trend. He doesn't do distribution so you won't find his wines in restaurants or liquor stores and most of his visitors are friends of friends. Why then, is Aonair even in business?
Call it stubborn romanticism but perhaps Aonair has it figured out better than most. Taking a page from the craft beer movement, Long says wine drinkers are willing to go off the beaten path for something amazing and, fortunately, willing to pay for it as well.
They don't make a lot of wine – just 1,200 cases a year from the Coombsville winery. Long's vineyards are mainly Merlot with some Cabernet Franc and Cabernet Sauvignon.
"The American working public is working harder to find the diamond in the rough and that's really a great and exciting part of winemaking in Napa," Long said.
Long credits a lot of the current Napa wine trends to the recession.
"It was a reset button," Long says. "In a time of crisis people get back to their roots and eating locally. It was a ripple in the pond."
It's a ripple Long says small Napa winemakers continue to benefit from. Calling himself a farmer before all else, Long, born and raised in Napa, is largely self-taught. With a wine collector as a father, Long grew up with an appreciation of wine but never really knew where it would lead. That all changed when he watched a friend make wine. Working as a cellar rat, he learned the ropes and began doing some marketing and sales for Reverie. Then, he went out on his own and started small but has since gained a large following.
"I promised I would never raise my prices other than inflation, because of demand," Long said. "Demand has exceeded supply for the last several years."
It's the cornerstone of Aonair and it's working. Long keeps a private wine list – now more than 2,000 strong. Members get two shipments a year.
He says the benefit of keeping things small is twofold.
"There is the romance end. When my father was collecting wine in the 1970s, there wasn't any internet. The cornerstone for boutique Napa was that if you wanted to own a bottle, you had to do your homework, buy a plane ticket or get in the car and go to Napa. The best wines started in a garage or were a small operation. That concept that you had to come to Napa to get a bottle was one I really enjoyed in my father's story telling. That's why I don't do distribution."
The other end is that for Long, dealing with distributors means cutting into the price per bottle – something he's not willing to do.
"I said what if I cut that out and price the wines better than competition in quality and quantity and grind it out to build a wine list?"
His gamble paid off. Eleven years in the making but it happened. First it was 500 members then 2,500 where he has been for the last three years. His list is 100-percent people who have visited with him personally – he even pours the wines for the tastings.
Long's 2010 Reserve Cabernet Sauvignon ($78) is the star of the show — a meaty, smoky bouquet with layers of fruit and despite its youth, is remarkably balanced. Long also pours a Mountain Proprietary Blend ($85) and an Aonair White ($35), a blend of Sauvignon Blanc, Semillion and Sauvignon Musque; A Blue Oak Vineyard Merlot ($55) and a Grenache Blend, a beautiful quilt of dark berries with a hint of spicy chocolate ($58, although currently sold-out). He produces a very small amount of Port ($50), as well.
"My success is my members' loyalty and their willingness to share it," Long says. Those who call him to visit are mainly referrers from wine list members. He pours for about 8 people a week. And don't think you deal with Long's secretary to set up a tasting – Long's cell phone number is listed on each bottle and cork.
A membership to the Series Reserve Club gets you two cases a year, made up of six bottles of the Mountains Proprietary Reserve Blend and six of the Cabernet for $768. A $360 Portfolio Club membership includes one case a year (two six bottle shipments a year); two bottles each of the Reserve Blend, cabernet and Grenache blend. The memberships include discounts to the single bottle prices.
"I don't personally believe in social media because there is no human connection," he says. "Social media can help sell wine but it's difficult to build a business on trends."
Long feels the same way about ratings.
"Ratings? Who cares, it's my customers that matter to me."
Long says the ratings attract people who just follow ratings and have little loyalty.
"As a small business that I built with my own hands, I couldn't build it on sand," Long said. "I built it club member-by-club member."
Long may have been ahead of his time. When the recession hit in 2008, distributors turned to South America for cheaper wines, pulling the rug out from under many small Napa wineries. If it wasn't clear before, Napa wine makers are now clear that the customer is king.
"In the 1970's and 1980's there was a huge amount of garage wines – they weren't trying to make a million dollars, they were just trying to make good wines and live in Napa," Long says. "The world changed Napa and they were washed away but in just the last 10 years I've been able to see a lot of that coming back."
Long's commitment to his customers and crafting beautiful wines is paying off. Plans are in place for expansion in 2015.
If you're lucky enough to find a wine list member and sample some Aonair, we suggest you copy down Long's cell phone number and give him a call.