2011 Brunello:
Following A Hard Act
Tom Maresca
---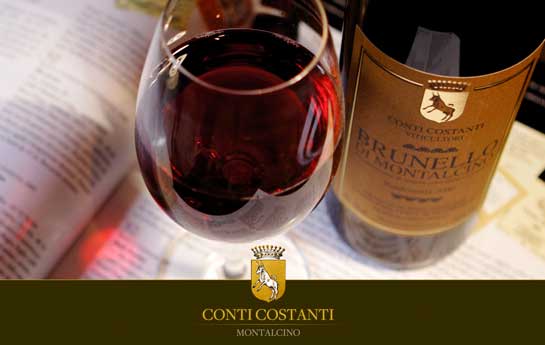 By now, everyone with the slightest interest in Italian wine has heard that 2010 gave birth to a great, perhaps very great, vintage in Montalcino, and most have also heard that 2012 seems almost as promising. That leaves poor 2011, which is just being released now, caught between a rock and a hard place. There is just no way it's going to get much serious attention, especially after a trickle of dire stories about its growing season.
And those stories are true: The weather in 2011 was pretty awful, with early heat and premature bud break followed by rainy, too-cool weather through most of July, until absolutely scorching heat arrived in August and ran on right up to harvest. That means, of course, roasted, over-ripe grapes with low acidity and high sugar levels that translate into high alcohol levels—so, in the final analysis, unbalanced wines, probably with harsh tannins or cooked flavors. Make no mistake about it, there was an abundance of mediocre wine made in Montalcino in 2011.
But—and it is a very important but—the good news is that there was also a generous amount of fine, very enjoyable Brunello made in 2011. The best wines of that vintage are simply charming—not an adjective one normally uses for young Brunello, but perfectly appropriate in this case. The top-flight wines of 2011 drink wonderfully already, with easy, fresh fruit, good balance, and enough acidity to keep them lively. For sure, these aren't Brunellos to cellar but to drink now and for the next five to maybe ten years (?!). They have a vivacity and even a touch of elegance that will make them very welcome dinner companions during that span. In short, these are in no way classic, austere Brunellos, but very accessible—the Italian word accogliente says it best—versions of them.
With the help of the Brunello consorzio, I tasted a selection of the very best bottles of this difficult vintage, and I found a great deal to enjoy. What follows is my short list of the best of the best, scored on a five-point scale.
All these wines showed good color in slightly differing shades of garnet, and all sported lovely Sangiovese aromas—wild cherry and blackberry, with differing intensities of Mediterranean underbrush. Every wine listed here is already a pleasure to drink—and that is not something one can say about Brunello in every vintage.
Altesino Brunello. Nicely balanced; fresh and accessible, with good structure. 4
Altesino Brunello Montosoli.Delicate and elegant, with all the charming fruit of the first wine. A little licorice in the finish. 4.5
Canalicchio di Sopra Brunello. Fresh and very structured, with dark, woodsy fruit. Intensity without heaviness. May age well. 4.5
Capanna Brunello. Lighter-bodied than the Canalicchio, more like the basic Altesino. Shows a lot of underbrushy flavors on the palate. 4
Caparzo Brunello. Medium-bodied, with a very long fruit/leather finish. 3.5
Caparzo Brunello La Casa. Roughly similar to the preceding wine, but cleaner, clearer, more nervous; quite nice. 4
Ciacci Piccolomini d'Aragona Brunello. Lovely cherry/berry fruit, lively acidity, great poise; an excellent wine already. 4.75 to 5
Col d'Orcia Brunello. Slighter fuller and bigger than the preceding wine, but every bit as fresh and charming. 4.75 to 5
Costanti Brunello. One of the biggest wines in the tasting, but still fresh, fruity, and vivid. A long fruit salad of a finish. 4.75 to 5
Donatella Cinelli Colombini Brunello. Slightly smaller scale than the Costanti wine, but still excellent. 4.5
Donatelli Cinelli Colombini Brunello Prime Donne. Very balanced, very elegant. Its fresh woodsy fruit hides its substantial muscularity. Quite fine. 4.75
Fuligni Brunello. Its balance and structure strike you first, then its already-mellowing fruit and acidity. May age very well. Now 4.25; in two years, 5?
Greppone Mazzi (Ruffino) Brunello. Lovely fruit, with the tiniest hint of vanilla. Long dried-cherry finish. 3.5
Lisini Brunello. Beautiful fruit, all cherry and sotto bosco. Medium body, nice balance. 4
Padelletti Brunello. Very similar to the Lisini, with a long licorice and cherry finish. Nice. 4
Poggio di Sotto Brunello. Very fine. Live and fresh. Good fruit, fine balance. Very composed and welcoming. 4.25
Le Potazzine Brunello. A good wine with some heft; nice dark fruit, very persistent. 4
Talenti Brunello. A biggish wine with a lot of evident structure; may age very well. 4.25
---



Related articles, 33rd Annual Best of the Best Wines:

• 33rd Annual Best of The Best: California Pinot Noir
• 33rd Annual Best of The Best: Champagne Tasting
• 33rd Annual Best of The Best: Non-Vintage Champagne
• 33rd Annual Best of The Best: California Cabernet and Red Blends
• 33rd Annual Best of The Best: California Sauvignon Blanc